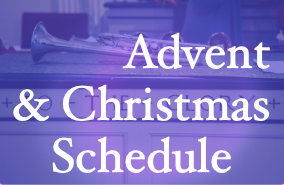 We welcome you to worship with us throughout the seasons of Advent and Christmas, as we sing our "Songs of Hope," which tell again the story of God drawing near to us in human life in Jesus. We hope that you find a place here to pause, reflect, and rejoice with us!
December 2, First Sunday of Advent
As we begin our Advent journey, we take food for the road to sustain us as we share in Communion. We light the candle of hope.
December 9, Pageant Sunday: Second Sunday of Advent
Our children help us to bring the stories and spirit of the season to life in our annual pageant. We light the candle of peace.
December 16, Third Sunday of Advent
We pause to take joy in community as we worship. We light the candle of joy.
December 23, Music Sunday: Fourth Sunday of Advent
With Mary, we sing a song of love in expectation of the Christ child in this special service of music lead by our choirs. We light the candle of love.
December 24, Christmas Eve
4pm Family Christmas Service
6pm Lessons and Carols with Communion
December 30, First Sunday of Christmas
We are joined by special music guests, ChoralArt, as we sing songs of celebration and wonder at the gift of God-with-us, in us, and among us.
December 31, New Year's Eve Vigil
7:00 PM Quiet Vigil
7:30 PM Prayer Service
All are invited for a candlelit time of quiet reflection and offering of prayers for the New Year. The Sanctuary will be open for meditation beginning at 7pm, and a service of readings and prayers will begin at 7:30pm